Which New Mazda SUV is the Right Choice for Your Travels Around Burlington, Greensboro and Chapel Hill?
The Mazda lineup, compared to other brand's offerings around the Mebane and Graham areas of North Carolina, is relatively limited. A couple of small sedans and hatchbacks make for sensible commuters, while the iconic convertible found in our new model lineup is an exciting warm-weather option. Finally, this lineup is rounded out by a trio of high-end new Mazda SUVs of varying sizes and capabilities. Each of the new Mazda CX-3, Mazda CX-5 and Mazda CX-9 share some similar characteristics, all while delivering their own unique personalities and setups for your family travels around Greensboro, Chapel Hill and Durham, NC.
From the small, efficient Mazda CX-3 crossover, to the three-row and wildly spacious Mazda CX-9, the new Mazda SUV lineup at our Burlington, NC dealership is the place you'll want to start, and most likely finish, your family vehicle search. To get an idea of what each Mazda SUV offers, read through each section. You'll develop a sense of what might be the best fit for your travel needs around this part of North Carolina, and from there, we'll match you up with the right trim level and the kind of leasing or financing option that works for your budget. Learn more about our new SUVs, then visit our Burlington, NC Mazda dealership today for a closer look and a quick test drive in the edition you choose.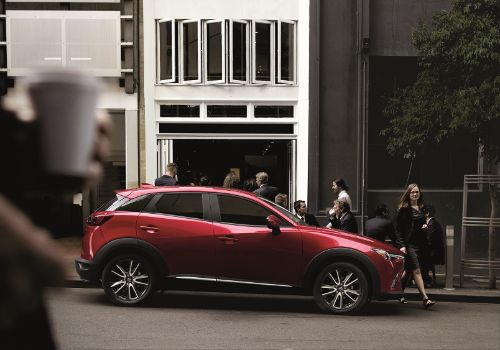 Our smallest SUV is ideal for the daily commuter who still prioritizes fuel economy, but also wants added space, utility and capabilities for versatile driving. Revamped in recent years, the latest CX-3 offerings have improved considerably, earning a spot among some of the top-rated small SUVs found throughout the Greensboro area and beyond.
The lone 2.0-liter four-cylinder engine found in all trims of the CX-3 performs fine, but it's really impressive by earning up to 34 mpg on the highway, making this subcompact crossover a smart choice if you plan on using it for your daily commutes around Chapel Hill and Durham.
While most SUVs in this class boast some standard safety features, the driver aids included in the base Sport trim of the CX-3 are far more comprehensive than what's typically available. This includes standard blind-spot monitoring with rear cross-traffic alert, driver aids typically reserved for higher trims. Combining those with standard low-speed automatic emergency braking boosts your confidence without compelling you to stretch your budget for this level of premium safety.
Though this is our smallest SUV, the CX-3 delivers with its cabin comfort and the high-end styling and trimming found inside. Whether you commute around town or regularly go on longer road trips, you'll appreciate having a cabin that's designed for comfort, especially up front where you'll never feel cramped from behind the wheel or in the front passenger's seat.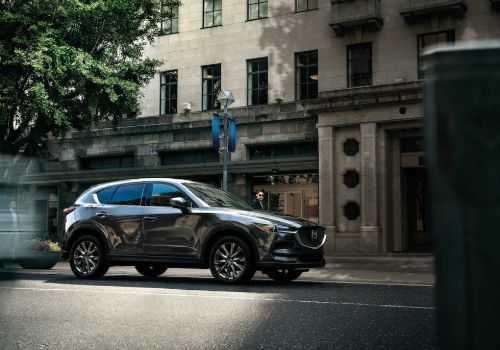 If you need a little more space but only two rows of seating, the new CX-5 is the right kind of Mazda SUV for your travels around Mebane and Graham, NC. Though not as efficient as the smaller CX-3, this midsized crossover provides more options for powertrains and features inside. If you want a versatile, do-it-all crossover, the new Mazda CX-5 will be a great fit.
While the CX-5's standard 2.5-liter four-cylinder is perfectly capable and actually tops 30 mpg on the highway, it's the available turbocharged four that really impresses for an SUV of this class. The turbo 2.5-liter engine produces up to 250 horsepower when using high-grade fuel and really delivers a sense of performance few other midsized SUVs can match.
Along with those impressive capabilities, the CX-5 delivers a remarkably smooth and quiet driving experience. That's a quality that can often be forgotten, as you're more focused on driving your loved ones around safely and comfortably, but when you do get some peace and quiet from behind the wheel, you'll immediately love how the CX-5 maintains a sense of calm and quiet out on the highways.
Though it's well-appointed from its base level on up, the Grand Touring Reserve and Signature trims of the CX-5 really deliver that near-luxury setup you might be searching for. With premium materials for upholstery and interior door panels, high-end tech for safety, connectivity and convenienece and an overall comfortable cabin, the CX-5 offers endless delights for both driver and passengers.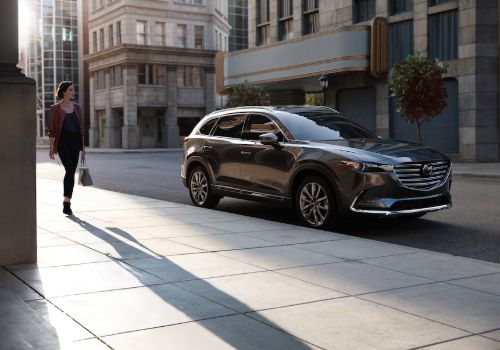 Finally we get to the three-row crossover found at our Burlington Mazda dealer. With some new tech features and welcome retuning of some of its driving capabilities, the latest Mazda CX-9 edition really delivers for family driving around North Carolina and beyond. If you want a high-end SUV without spending an exorbitant amount on a luxury vehicle, the new CX-9 will prove to be a smart option.
When driving the new CX-9, you'll immediately appreciate two qualities. First, it delivers a sense of sporty handling and steering that's hard to replicate in other, bulkier three-row SUVs. Thanks to intelligent Mazda engineering and design, the CX-9 is one of the easier three-row crossovers to maneuver around tight spaces driving in town. Secondly, when cruising at top speeds on the highway, the drive is remarkably quiet and comfortable, a quality shared by the other Mazda SUVs found here in Burlington, but one that's really appreciated in a larger family vehicle.
The latest tech features in the CX-9 give you better connectivity and entertainment options. Notably, Mazda has recently jumped in on the smartphone integration game, now offering Apple CarPlay and Android Auto in the CX-9, which make it easy for you to connect your mobile devices and access calling functions, as well as apps for music, podcasts, audio books, navigation and more, all with a familiar interface you use on a daily basis.
Once again, if you're able and willing to choose a top trim of this Mazda SUV, you'll delight with how luxurious it appears and feels. You'll do well with the CX-9 Signature trim, which not only includes the full assortment of available infotainment features and driver aids, but adds premium styling and touches like leather seating that would normally command a much higher price in any other SUV.